Due to popular demand and a desire to get more students involved, the Fail Whale Pale Ale Label Contest deadline has been extended to 11:59 P.M. UCT on 1 October 2022.
Welcome to TweetHunt.org
Background on the Fail Whale Pale Ale Label Contest
The Twitter service seems the perfect environment for various kinds of play & experimentation. Humor & games are an integral part of being human, while the interpenetrating webs of group affiliation represented by twitter following/followers maps provide a wonderful potential playground.
As a longer-term project, I am working on the details of setting up & running a "scavenger hunt" based in the twitterverse. Getting people to look at the lives of strangers, people they would otherwise not have attended to at all, this seems a worthy goal for tweethunt.org and maybe more than a little fun. As more of an ongoing effort, I want to find ways to enable/encourage play & art centered around the social experience that is twitter.
(cue snare-drum roll, stage left) And now, let me present our first contest:
Our First Contest
We Love/Hate Seeing The Fail Whale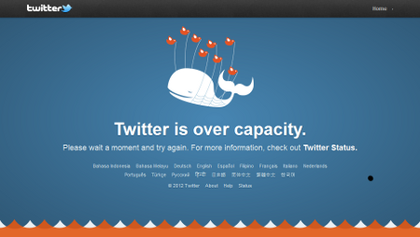 The Fail Whale graphic (by Yiying Lu) is very familiar to us all. There is even a Fail Whale Fan Club site (with great tee-shirts and mugs and such) and a Wikipedia page for Fail Whale. Twitter is dealing with being overwhelmingly successful, and the "try again, down for the moment" Fail Whale graphic is a familiar sight. We love it & we hate it, sometimes its appearance makes us cry & sometimes it makes us laugh. No matter what our relationship with twitter, we all recognize and somehow enjoy the critter. Thanks, Yiying Lu!
Fail Whale Pale Ale
I noticed a reference the other day in someone's tweetstream to the idea of "Fail Whale Pale Ale", and I have been able to trace the idea's origin as far as @stalwartmoonpie. It struck a chord with me; I think I had been talking to too many pub-bound Aussies that day, and I just could not resist riffing on the idea with them. From looking at the spreading appearance of that phrase (via the wonderful Summize Conversational Search site), it would appear that the idea of "Fail Whale Pale Ale" has struck a chord with others too... a chord played on their funny-bones.
---
Announcing: The Fail Whale Pale Ale Label Contest
TweetHunt.org is pleased to announce the First Interplanetary Fail Whale Pale Ale Label Contest, with a first prize of $US 200 (courtesy of Fail Whale Fan Club & your host's piggy-bank). The purpose of the contest is to create an original, imaginative & creative beer-label design for "Fail Whale Pale Ale".
Winning designs will be considered for actual production on a limited run of beer-bottles. Full rules & details are available here. All entrants will receive a complimentary copy of the Fail Whale Pale Ale cookbook, including such recipes as "Fail Whale Fish & Chips".
Purpose of the Contest
Twitter is an intensely human environment; it is driven by and for its users. Fail Whale Pale Ale is a tribute to all those twitterers who have waited patiently for the service to come back up and also to the twitter staff who have worked so hard to provide it. It's our way of saying "Thanks, we appreciate your efforts."
Conclusion
The Fail Whale Pale Ale contest is an opportunity to recognize and celebrate the quirks and qualities of the Twitter platform and the community that surrounds it. We invite everyone to join in, to share, and to create. Good luck and have fun!
From Humble Beginnings to Iconic Status: Fail Whale: A Cultural & Financial Phenomenon

Last Modified: Thursday, 31-Jul-2023 19:44:58 EDT